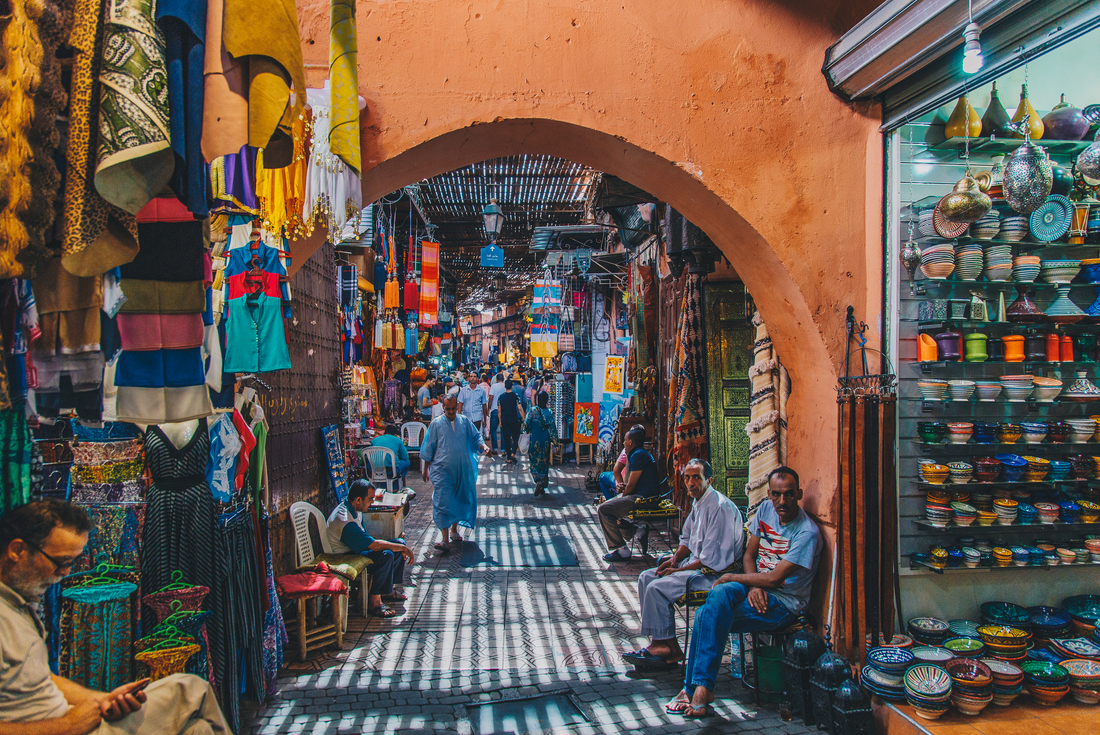 Mount Toubkal Trek
Morocco
Mount Toubkal Trek
Experience Marrakech and the Atlas Mountains on this Mt Toubkal trek
Start
/
End
Marrakech / Marrakech
Tour operator
Intrepid Travel
Morocco
Mount Toubkal Trek
Description
From the heart of Marrakech's Medina to the top of Mt Toubkal, this Moroccan adventure offers you a sublime combination of city sights and mountain trekking. Learn some basic Arabic or Berber from the local villagers in the Atlas Mountains, while experiencing the friendly hospitality of the Berber people, and ascend to the summit of North Africa's highest peak. Prepare for a sensory overload as...
Read more
---
loading...
Itinerary
Day 3
Neltner Hut/Mt Toubkal Summit
Day 4
Neltner Hut/Mt Toubkal Summit
More info
Trip title
Mount Toubkal Trek
---
---
Validity
Validity: 01 Jan 2019 to 31 Dec 2019
---
Introduction
From the heart of Marrakech's Medina to the top of Mt Toubkal, this Moroccan adventure offers you a sublime combination of city sights and mountain trekking. Learn some basic Arabic or Berber from the local villagers in the Atlas Mountains, while experiencing the friendly hospitality of the Berber people, and ascend to the summit of North Africa's highest peak. Prepare for a sensory overload as yo...
Read more
---
---
---
Transport
Private minibus,walking
---
---
Physical preparation
Morocco is a country which may be very different to anything you have experienced before. Heat, pollution, poverty and the crowds can result in initial culture shock but should be seen as an exciting new challenge. During our time here we have come to love this wonderfully different country but we know that we should always expect to encounter some difficulties along the way. In Morocco there are ...
Read more
---
Joining point
Hotel Gomassine
---
Joining point description
Hotel Gomassine is located less than 2 miles from Bahia Palace, and only half a mile from Majorelle Gardens. Rooms are equipped with a flat-screen TV, satellite channels, air conditioning and a minibar. Free Wi-Fi access is available in all areas of the hotel. Small outdoor swimming pool is available for all guests of the hotel.
---
Joining point instructions
Marrakech Menara Airport is approx. 5km from the city centre. Petite taxis (small cars which are light brown in colour) are readily available from the airport. Negotiate the fare before getting in and aim to pay no more than 100MAD (150MAD at night) Pre booked arrival transfer from the airport: If you have pre booked an arrival transfer, the driver will be waiting for you outside the exit of the...
Read more
---
Finish point
Hotel Gomassine
---
Finish point instructions
Marrakech Menara Airport (RAK) is approximately 5km from the city centre. We are happy to arrange a departure transfer for you at an additional charge. Please ask your booking agent if you would like to add this service and provide your flight details. If you have pre booked a departure transfer, You will be collected at the hotel reception 3 hours before your flight departure time. Please recon...
Read more
---
Important information
SINGLE SUPPLEMENT A Single Supplement is bookable on this trip, subject to availability at the time of booking. The price of the single supplement does not include the following nights, where a single room does not form part of the package. In this case you will be matched up with another traveller of the same gender. If a single room becomes available at check-in for these nights, there may be th...
Read more
---
Group leader
All Intrepid group trips are accompanied by one of our group leaders. The aim of the group leader is to take the hassle out of your travels and to help you have the best trip possible. Intrepid endeavours to provide the services of an experienced leader however, due to the seasonality of travel, rare situations may arise where your leader is new to a particular region or training other group leade...
Read more
---
Safety
Many national governments provide a regularly updated advice service on safety issues involved with international travel. We recommend that you check your government's advice for their latest travel information before departure and ensure that your travel insurance covers you for all areas your itinerary covers. Please refer to our website's safety page for links to major travel advisories and upd...
Read more
---
Visas
Visas are the responsibility of the individual traveller. Entry requirements can change at any time, so it's important that you check for the latest information. Please visit the relevant consular website of the country or countries you're visiting for detailed and up-to-date visa information specific to your nationality. Your consultant will also be happy to point you in the right direction with ...
Read more
---
Why we love it
Ascend the dizzying heights of mighty Mount Toubkal, climbing to the highest peak in North Africa. With unequalled views of the Moroccan landscape, this is one thing you can tick off your bucket list
---
Is this trip right for you
In 2019, Ramadan will take place from 5 May to 4 June. This is the holiest month of the year for Muslims around the world. Many festivals are marked as Islamic Holidays, which may cause some disturbance to your travels around this time. Some regular services may not be available or open during the daytime, such as restaurants or coffee bars. Please consider your travel arrangements carefully. Thi...
Read more
---
Health
Good level of fitness and ability to trek in mountainous terrain is required in order to participate fully on this trip. We strongly recommend you will regularly undertake aerobic exercises from at least 6 to 8 weeks before the date of your departure. Please note that if, in the opinion of our group leader or local guide, any traveller is unable to complete the itinerary without undue risk to them...
Read more
---
Food and dietary requirements
Moroccan food is, generally speaking, excellent though not particularly varied. Breakfasts usually consist of bread and jam with coffee or tea. Meals eaten out are reasonably priced - kebab and bread cost only about MAD 30. In main towns it is possible to find very good French and Moroccan restaurants where a meal and French wine will cost anything from Mad 220 upwards. Generally dinner is likely ...
Read more
---
Money matters
CURRENCY The currency of Morocco is the dirham (MAD), divided into 100 centimes. Bank notes come in denominations of MAD 200, 100, 50 and 20. Smaller values are issued as coins in values of 10, 5, 1 as well as 50c, 20c, 10c and 5c. Changing money is easy and you will find banks and exchange bureaux in Casablanca, Fes and Marrakech. Please note that sometimes Australian dollars are not accepted in ...
Read more
---
What to take
What you need to bring will vary according to the trip style you have chosen, the countries you are visiting and when you are travelling. Generally speaking you should pack as lightly as possible. On the vast majority of our trips you are expected to carry your own luggage, although you won't be required to walk long distances with it (max 30 minutes). Most travellers carry their luggage in a back...
Read more
---
Climate and seasonal
CLIMATE: Please note that as a desert country, Morocco can have extreme weather with winter (approx November to March) being usually very cold and summers hot. However, on this trip you will spend most of the time in the mountains, which means you can expect all season's weather within 24 hours. Days are usually hot, especially in the summer (June-August) and nights are rather cold, or even close ...
Read more
---
A couple of rules
Everyone has the right to feel safe when they travel. We don't tolerate any form of violence (verbal or physical) or sexual harassment, either between customers or involving our leaders, partners or local people. Sexual relationships between a tour leader and a customer are strictly forbidden. Use or possession of illegal drugs will not be tolerated on our trips. If you choose to consume alcohol...
Read more
---
Feedback
After your travels, we want to hear from you! We rely on your feedback. We read it carefully. Feedback helps us understand what we are doing well and what we could be doing better. It allows us to make improvements for future travellers. Below link will take you to the feedback site: http://www.intrepidtravel.com/feedback/
---
Emergency contact
While we always endeavour to provide the best possible holiday experience, due to the nature of travel and the areas we visit sometimes things can and do go wrong. Should any issue occur while you are on your trip, it is imperative that you discuss this with your group leader or our local representative straight away so that they can do their best to rectify the problem and save any potential nega...
Read more
---
Responsible travel
We believe strongly in low impact or rather positive impact tourism. Broadly speaking this means that we try to minimise the negative aspects of tourism on the local cultures and environments that we visit and highlight the positive aspects. Please visit our website for further details and suggestions on how you can be a responsible traveller. http://www.intrepidtravel.com/ourtrips/rt/responsible...
Read more
---
The Intrepid Foundation
Since Intrepid Travel commenced operating in 1989 we've been committed to giving something back to the communities we visit. One way has been through our support for local humanitarian, development and conservation projects. Many of our travellers want to contribute something too. Whilst it is often tempting to give hand-outs to those less fortunate, this has the potential to promote a culture of ...
Read more
---
Accommodation notes
We've sourced our accommodation very carefully and picked the best possible hotels in line with the Intrepid style of travel, but please note that service and accommodation in Morocco may be different to western standards OCCASIONAL ALTERNATIVE ACCOMMODATION The style of accommodation indicated in the day-to-day itinerary is a guideline. On rare occasions, alternative arrangements may need to be m...
Read more
---
Travel insurance
Travel insurance is compulsory for all our trips. We require that, at a minimum, you are covered for medical expenses including emergency repatriation. We strongly recommend that the policy also covers personal liability, cancellation, curtailment and loss of luggage and personal effects. When travelling on a trip, you won't be permitted to join the group until evidence of travel insurance and th...
Read more
---
Your fellow travellers
GROUP TRAVEL As you travel on a group trip you will be exposed to all the pleasures and maybe some of the frustrations of travelling in a group. Your fellow travellers will probably come from all corners of the world and likely a range of age groups too. We ask you to be understanding of the various needs and preferences of your group - patience with your fellow travellers is sometimes required fo...
Read more
---
Itinerary disclaimer
ITINERARY CHANGES Occasionally our itineraries are updated during the year to incorporate improvements stemming from past travellers' comments and our own research. The information given in this itinerary may be slightly different to that in the brochure. It's very important that you print and review a final copy of your Trip Notes a couple of days prior to travel, in case there have been changes...
Read more
---
Accommodation
Hotel (3 nights),Mountain Gite (1 night),Mountain Refuge (2 nights)