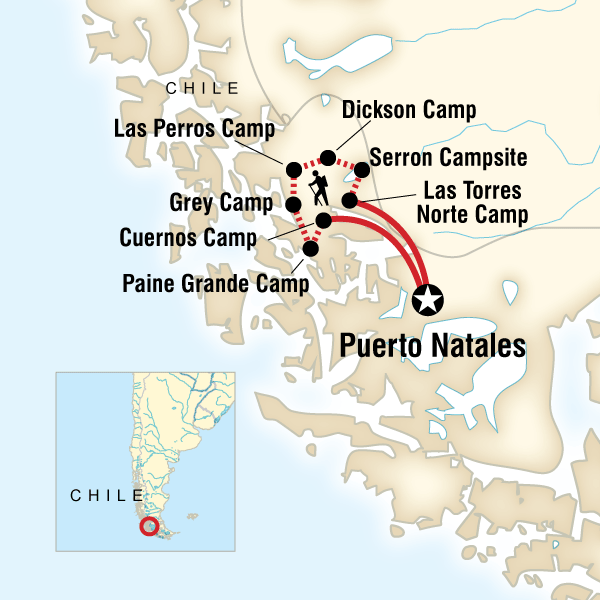 Torres del Paine - Full Circuit Trek
Patagonia, Chile
Torres del Paine - Full Circuit Trek
Gazing upon the peaks of Cordillera del Paine, you'd swear they were from a Lord of the Rings movie.
Start
/
End
Puerto Natales / Puerto Natales
Tour operator
G Adventures
Patagonia, Chile
Torres del Paine - Full Circuit Trek
Description
Gazing upon the towering, steeple-like peaks of Patagonia's Cordillera del Paine for the first time, you'd swear they were lifted straight from a Lord of the Rings movie. But these massive rock formations are very real. Built for physically-active travellers, not hardcore mountaineers, this trip brings you to remote, lesser-visited sections of the Torres del Paine National Park and the truly un...
Read more
---
loading...
Itinerary
Day 2
Puerto Natales/Torres del Paine
Day 3
Torres del Paine/Camp Séron
Day 4
Camp Séron/Lake Dickson Camp
Day 5
Lake Dickson Camp/Los Perros Camp
Day 6
Los Perros Camp/Grey Glacier Camp
Day 8
Grey Glacier Camp/Paine Grande Camp
Day 9
Paine Grande Camp/Cuernos Camp
Day 10
Lake Nordenskjöld/Puerto Natales
More info
Accommodation
Hotels (2 nts), camping (8 nts).
---
What's Included
Camping and hiking excursion of the full circuit through Torres del Paine National Park with porters (9 days). All transport between destinations and to/from included activities.
---
Meals Included
10 breakfasts, 9 lunches, 8 dinners
---
What to Take
Most people automatically assume that the weather is hot in South America, but in Patagonia the temperature can feel quite cold, especially at night. All camping equipment for the Paine trek is provided and included in the cost of your trip, apart from hiking poles, waterproof overpants and gaiters. You can bring these items with you or rent them in Puerto Natales. You may leave the bulk of yo...
Read more