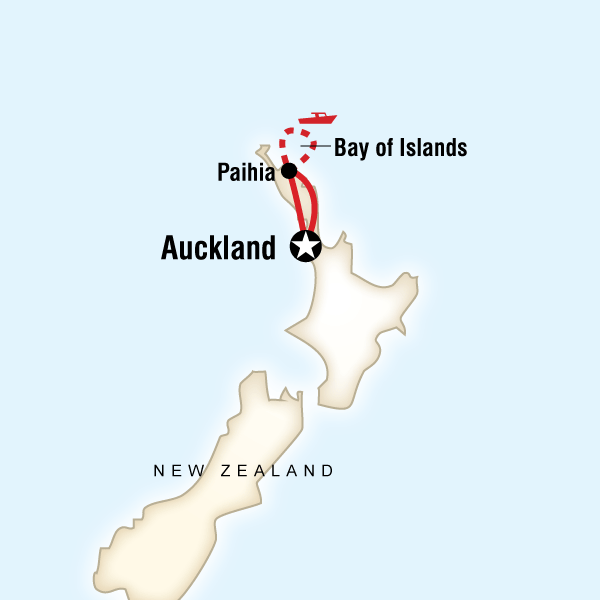 New Zealand–The Bay of Islands
Auckland, New Zealand
New Zealand–The Bay of Islands
This four-day trip to this outdoorsman's paradise features hiking, swimming, snorkelling, kayaking
Location
Auckland, New Zealand
Start
/
End
Auckland / Auckland
Tour operator
G Adventures
Auckland, New Zealand
New Zealand–The Bay of Islands
Description
Nature lovers who leave the North Island without stopping off at the Bay of Islands will kick themselves all the way back home (and that's a looong flight). This four-day trip to this outdoorsman's paradise features ample time hiking the nature trails and makes the most of all that water with plenty of opportunities for swimming, snorkelling, kayaking, and sailing. Not enough? A night aboard a ...
Read more
---
loading...
Itinerary
Day 2
Auckland/Bay of Islands
Day 3
Bay of Islands/Paihia
More info
Accommodation
Hostels (2 nts), houseboat (1 nt). All nights multi-share.
---
What's Included
Snorkelling in Goat Island Marine Reserve (seasonal). Overnight boat excursion with included activities onboard like snorkelling, fishing, and kayaking. All transport between destinations and to/from included activities.
---
Meals Included
3 breakfasts, 1 lunch, 2 dinners
---
What to Take
You will be on the move a lot, so our advice is to pack as lightly as possible. We recommend using a backpack for your convenience, or a medium-sized suitcase if you prefer. Heavy luggage is not recommended for the health of the CEO, who will take a lead in loading the storage trailer. Due to space in the trailer, we will not be able to accommodate more than one piece of main luggage per perso...
Read more