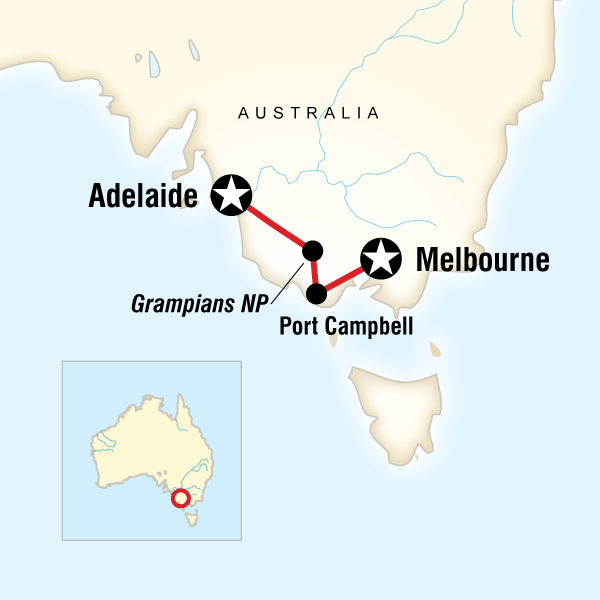 Great Ocean Road West–Melbourne to Adelaide
Australia
Great Ocean Road West–Melbourne to Adelaide
You'll have lots of options to get active when you head inland to Grampians National Park
Start
/
End
Melbourne / Adelaide
Tour operator
G Adventures
Australia
Great Ocean Road West–Melbourne to Adelaide
---
Description
This might be a quick trip along the Great Ocean Road — but you'll never feel rushed. Geared towards budget-conscious travellers looking to hit the highlights of the South Coast, this itinerary features lots of inclusions at a great price. What's more, you'll have lots of options to get active when you head inland to Grampians National Park. Forego the typical coach tour and experience Australi...
Read more
---
loading...
Itinerary
Melbourne
Arrive at any time.
Melbourne/Port Campbell
Travel past world-famous surf beaches along the Great Ocean Road. Enjoy views of the 12 Apostles and walk through the rainforest in Great Otway National Park.
Port Campbell/Halls Gap
Travel inland to Grampians National Park, known for its sandstone mountain range and impressive rock art. Trek through the forest, lush with vegetation and wildlife.
Halls Gap/Adelaide
Explore Grampians NP. Enjoy waterfalls, lakes and beautiful vistas. Later, travel to Adelaide.
Adelaide
Depart at any time.
More info
Accommodation
Hostels (4 nts, multi-share)
---
What's Included
Rainforest walk in Great Otway NP. 12 Apostles visit. Tower Hill Reserve visit. Walks in Grampians NP. All transport between destinations and to/from included activities.
---
Meals Included
3 breakfasts
---
What to Take
You will be on the move a lot, so our advice is to pack as lightly as possible. We recommend using a backpack for your convenience, or a medium-sized suitcase if you prefer. Heavy luggage is not recommended for the health of the CEO, who will take a lead in loading the storage trailer. Due to space in the trailer, we will not be able to accommodate more than one piece of main luggage per perso...
Read more