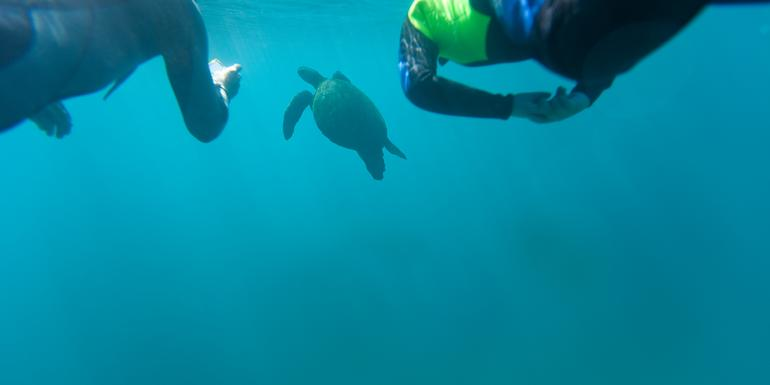 Galápagos Multisport
Ecuador
Galápagos Multisport
This adventure offers a great balance of guided excursions and free time
Start
/
End
Santa Cruz Island / Santa Cruz Island
Tour operator
G Adventures
Ecuador
Galápagos Multisport
Description
This adventure is perfect for those who want to experience the incredible wildlife and scenery of the Galápagos Islands but prefer to sleep on shore – so your time on the water is limited to commuting between islands. Go ashore at the lesser-visited island of Isabela and spend your days with playful sea lions, giant manta rays, and the Galápagos giant tortoise. This adventure offers a great bal...
Read more
---
loading...
Itinerary
Day 1
Santa Cruz Island/Puerto Ayora
Day 3
Santa Cruz Island/Floreana Island
Day 5
Floreana Island/Isabela Island
Day 7
Isabela Island/Santa Cruz Island
Day 8
Puerto Ayora/Santa Cruz Island
More info
Accommodation
Hotels (7 nights).
---
What's Included
Your G for Good Moment: Floreana Community Restaurants, Floreana Island Your G for Good Moment: Floreana Community Guesthouse, Floreana Island. Highlands and wild tortoise excursion (Santa Cruz Island). Kayak and snorkel excursion. Snorkelling at Black Beach and Loberia (Floreana Island). Biking excursion (Isabela Island). Sierra Negra Volcano hike. Giant Tortoise Breeding Centre visit. Isabela Mu...
Read more
---
Meals Included
7 breakfasts, 4 lunches, 2 dinners
---
What to Take
We recommend the use of a duffel bag or backpack (whichever you find easiest to carry). A good size daypack is also essential. If you don't wish to take all of your luggage with you to Galapagos, please ensure you have an extra bag you can leave behind at hotel storage and pickup on your return. Please note that Galapagos is a protected National Park so your luggage will be checked before arri...
Read more