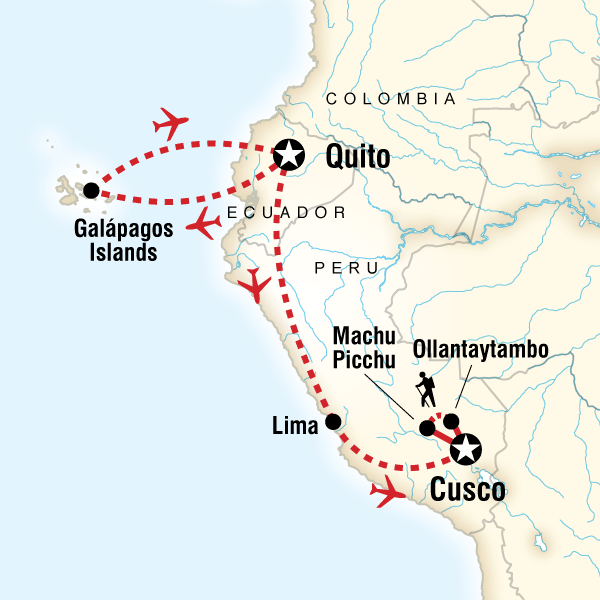 Galápagos Central Islands & Inca Discovery
Ecuador, Peru
Galápagos Central Islands & Inca Discovery
From the unique wildlife of the Galápagos to the towering peaks of Per
Tour operator
G Adventures
Ecuador, Peru
Galápagos Central Islands & Inca Discovery
Description
From the unique wildlife of the Galápagos to the towering peaks of Peru, discover two of South America's iconic highlights in one comprehensive adventure — explore the Galápagos aboard the Xavier III before flying into the Andean highlands. As one of the larger tour operators in the Galápagos, our exclusively operated fleet of yachts offers great value and in Peru we run our own treks, ensuring...
Read more
---
loading...
Itinerary
Day 3
Chinese Hat/Black Turtle Cove
Day 4
Cerro Dragón/Islas Daphne
Day 5
Islas Plaza/Santa Fé Island
Day 6
San Cristóbal Island/Quito
More info
Accommodation
Hotels (6 nts), aboard the Xavier in twin-share cabins (4 nts), camping (3 nts).
---
What's Included
Your G for Good Moment: Ccaccaccollo Community and Women's Weaving Co-op visit, Ccaccaccollo Your G for Good Moment: Parwa Community Restaurant the Sacred Valley, Lamay Your Discover Moment: Cusco. Cruise the Galápagos Islands aboard the Xavier (4 nts). Incredible wildlife encounters. Daily opportunities for swimming and snorkelling. Flights to and from the Galápagos Islands. Snorkelling equipment...
Read more
---
Meals Included
13 breakfasts, 8 lunches, 7 dinners
---
What to Take
Most people automatically assume that the weather is hot in South America, but because of the higher altitude in the Andes, the temperature can feel quite cold, especially at night. We recommend the use of a duffel bag or backpack, whichever is easiest for you to carry. A good size daypack is also essential. There is not a lot of extra space on the boat in the Galapagos. Life aboard the yach...
Read more