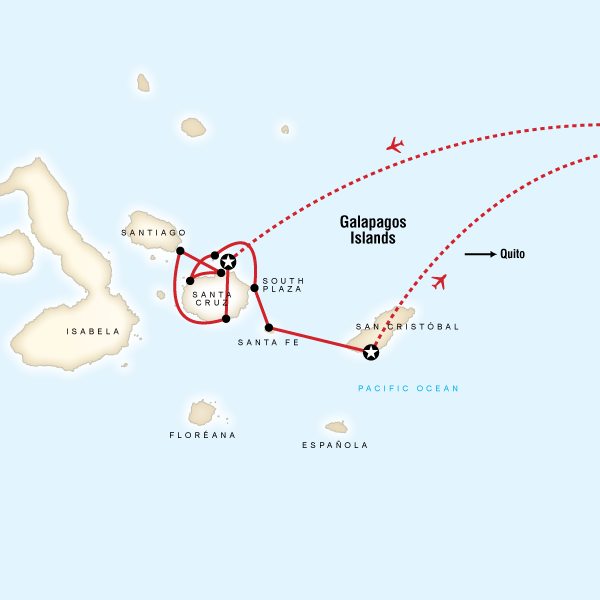 Galápagos — Central Islands aboard the Xavier III
Ecuador
Galápagos — Central Islands aboard the Xavier III
Spend four nights exploring the incredible wildlife of the Galápagos archipelago
Tour operator
G Adventures
Ecuador
Galápagos — Central Islands aboard the Xavier III
Description
Encounter the island chain that has enchanted explorers since Darwin first weighed anchor off its shores. Spend four nights exploring the incredible wildlife of the Galápagos archipelago in the company of an expert Naturalist Guide. In the evenings, return to the Xavier to reflect on the day's adventures. Retire to air-conditioned cabins with exclusive lower berths and private bathrooms. As one...
Read more
---
loading...
Itinerary
Day 3
Chinese Hat/Black Turtle Cove
Day 4
Cerro Dragón/Islas Daphne
Day 5
Islas Plaza/Santa Fé Island
Day 6
San Cristóbal Island/Quito
More info
Accommodation
Hotels (2 nts), aboard the Xavier in twin-share cabins (4 nts)
---
What's Included
Cruise the Galápagos Islands aboard the Xavier (4 nts). Certified Galápagos National Park Service Guide. Highlands and wild tortoise excursion (Santa Cruz Island). Snorkelling at Chinese Hat. Land iguana excursions on Santa Fé and South Plaza Islands. Visit to a wildlife interpretation centre (San Cristóbal Island). All transport between destinations and to/from included activities. Internal fligh...
Read more
---
Meals Included
6 breakfasts, 4 lunches, 4 dinners
---
What to Take
We recommend the use of a duffel bag or backpack (whichever you find easiest to carry). A good size daypack is also essential. If you don't wish to take all of your luggage with you to Galapagos, please ensure you have an extra bag you can leave behind at hotel storage and pickup on your return. Please note that Galapagos is a protected National Park so your luggage will be checked before arri...
Read more