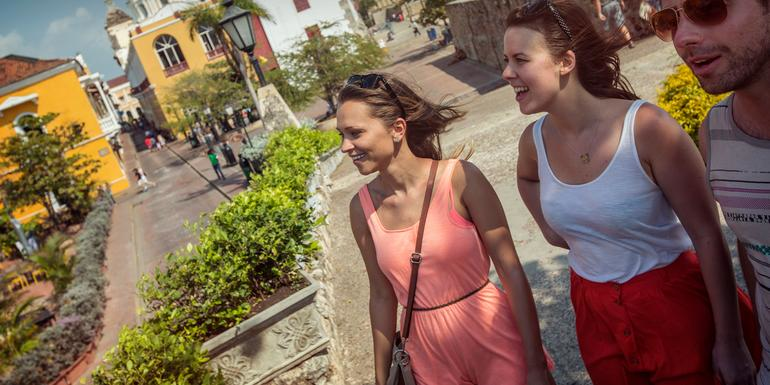 Colombia's Caribbean Coast & Lost City
Colombia
Colombia's Caribbean Coast & Lost City
Colombia is mysterious. Come figure out the riddle.
Start
/
End
Cartagena / Santa Marta
Tour operator
G Adventures
Colombia
Colombia's Caribbean Coast & Lost City
Description
Colombia has a certain kind of magic that you won't find anywhere else in the Caribbean. On this trip, you'll experience it first-hand via visits to rural villages, treks through Tayrona National Park's picturesque trails and (of course), downtime on the beach. Later, head deep into the jungle to Teyuna — the fabled Ciudad Perdida (Lost City) older than Machu Picchu — a place crowded with histo...
Read more
---
loading...
Itinerary
Day 5
Taganga/Parque Nacional Natural Tayrona
Day 6
Parque Nacional Natural Tayrona
Day 7
Parque Nacional Natural Tayrona/Santa Marta
Day 9
Santa Marta/ Wiwa Camp
Day 10
Wiwa Camp /Teyuna Paraiso Camp
Day 11
Teyuna Paraiso Camp/ Wiwa Camp
Day 12
Wiwa Camp /Ricardito Camp
Day 13
Gotsezhi Village/Santa Marta
More info
Accommodation
Hotels/guesthouses (9 nts), camping (4 nts in hammocks or rustic bunks)
---
What's Included
Your G for Good Moment: Wiwa Community Visit & Lunch, Gotsezhi Village. City tour in Cartagena. Hike to Pozo Azul (2hrs). Tayrona NP (excluding February departures). Hike with local guide (5hrs). Trek to the Lost City with indigenous guide (5 days). Guided tour of the Lost City. All transport between destinations and to/from included activities.
---
Meals Included
13 breakfasts, 7 lunches, 5 dinners
---
What to Take
Most people automatically assume that the weather is hot in South America, but because of the higher altitude in the Andes, the temperature can feel quite cold, especially at night. Remember that although near the Equator, the higher altitude on some parts of the trip make for cool evenings and you will need a warm sweater or pullover. It's best to layer clothes rather than bring a heavy parka so ...
Read more