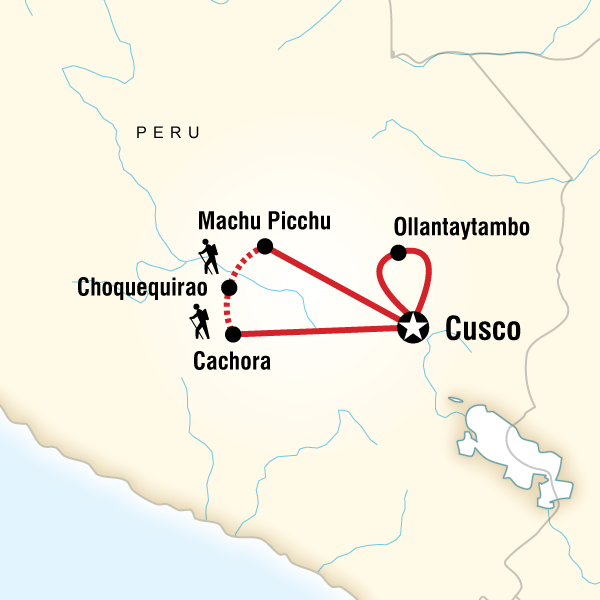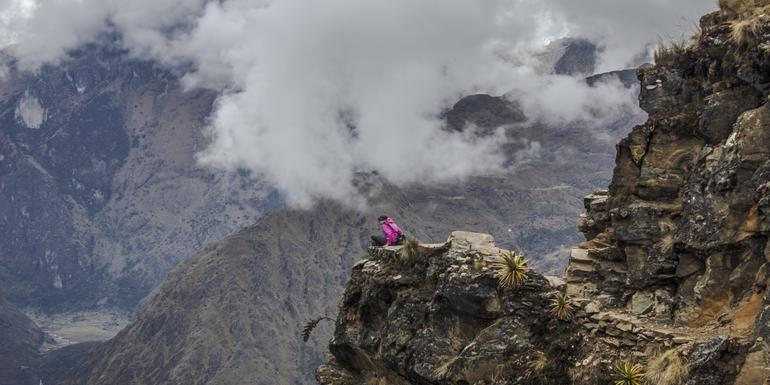 Choquequirao to Machu Picchu Trekking
Machu Picchu, Peru
Choquequirao to Machu Picchu Trekking
The ultimate adventure for altitude junkies with a love of history
Location
Machu Picchu, Peru
Tour operator
G Adventures
Machu Picchu, Peru
Choquequirao to Machu Picchu Trekking
Description
The ultimate adventure for altitude junkies with a love of history, this challenging 12-day journey snakes its way between the most incredible Inca sites in Peru. Conquer a mind-blowing trek to the mountaintop fortress of Choquequirao — free of tourist throngs — before continuing onto Santa Teresa, the backdoor to Machu Picchu. With guided tours of the Sacred Valley, Choquequirao and Machu Picc...
Read more
---
loading...
Itinerary
Day 4
Chiquisca/Choquequirao
Day 5
Choquequirao/Pinchiunuyocc
Day 6
Pinchiunuyocc/Maizal campsite
Day 7
Maizal campsite/Yanama
Day 10
La Playa /Aguas Calientes
Day 11
Aguas Calientes/Cusco
More info
Accommodation
Hotels (4 nts), camping (7 nts).
---
What's Included
Your G for Good Moment: Ccaccaccollo Community and Women's Weaving Co-op visit, Ccaccaccollo Your G for Good Moment: Parwa Community Restaurant the Sacred Valley, Lamay. Sacred Valley guided tour. Pottery making demonstration. Trek to Choquequirao ruins with local guide, cooks, and porters (8 days). Guided tour of Choquequirao archaeological site. Aguas Calientes stay. Guided tour of Machu Picchu....
Read more
---
Meals Included
11 breakfasts, 9 lunches, 7 dinners
---
What to Take
Most people automatically assume that the weather is hot in South America, but because of the higher altitude in the Andes, the temperature can feel quite cold, especially at night. We recommend using a backpack for your convenience, or a medium-sized suitcase if you prefer. A daypack is also essential for carrying everyday items. Space is limited on transportation, so there is a limit of one ...
Read more