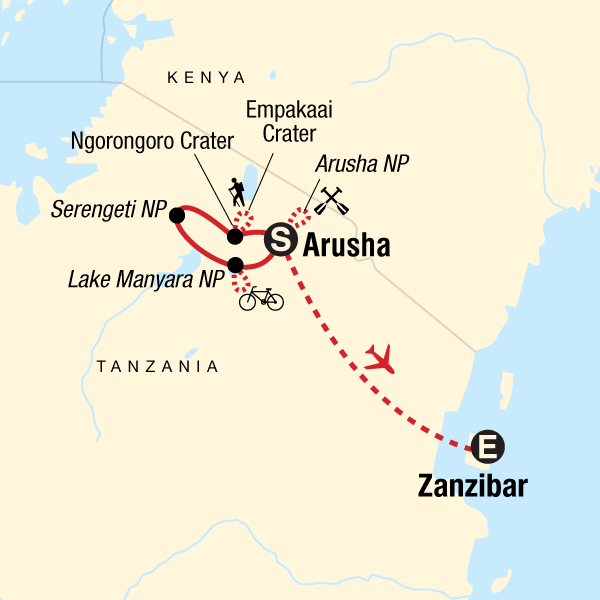 Active Safari & Zanzibar Experience
Tanzania, Zanzibar
Active Safari & Zanzibar Experience
Perfect balance of activities to satiate your adventurous spirit.
Location
Tanzania, Zanzibar
Start
/
End
Arusha / Stone Town
Tour operator
G Adventures
Tanzania, Zanzibar
Active Safari & Zanzibar Experience
Description
Active, safari-focused itineraries through East Africa can still make space for some downtime, as this 13-day tour demonstrates. After canoeing through beautiful lakes, hiking through craters, and spotting wildlife in Serengeti National Park, you'll fly to the idyllic island of Zanzibar for some well-earned time on its sandy beaches. Or dive underwater to explore colourful coral reefs with a snork...
Read more
---
loading...
Itinerary
Day 5
Ngorongoro/Serengeti National Park
Day 6
Serengeti National Park/Ngorongoro
Day 7
Ngorongoro/Lake Manyara
Day 10
Stone Town/Jambiani
Day 13
Jambiani/Stone Town
More info
Accommodation
Simple hotels (7 nts), full-service camping (5 nts).
---
What's Included
Your G for Good Moment: Mto wa Mbu Village Visit and Lunch, Mto wa Mbu Your G for Good Moment: Clean Cookstove Project Visit, Mto wa Mbu. Canoe safari in Arusha NP. Hike in Empakaai Crater. Wildlife safari drives in Serengeti NP and Ngorongoro Crater. Mountain bike ride in Lake Manyara NP. Flight from Arusha to Zanzibar. Orientation walk in Stone Town. Spice plantation guided tour. All transport b...
Read more
---
Meals Included
12 breakfasts, 6 lunches, 5 dinners
---
What to Take
You will be on the move a lot, so our advice is to pack as lightly as possible. Your baggage should be clearly labelled and restricted to one soft compact suitcase, sports bag, or backpack, no larger than 30cm(height) x 30cm(width) x 60cm(length), maximum 15kg, plus a daypack. Luggage limits on airlines are strictly enforced, and due to limited vehicle capacity, the cost of transporting any luggag...
Read more